Bed Bugs Are Back In New York City!
There was a time not so long ago when bed bugs were almost entirely extinct in the United States; however, over the past 15-20 years, there has been a resurgence in their populations. Here in New York City, it began inside international hotels and hostels, but has since spread to homes and businesses all over the city. If you have a bed bug infestation in your home or business, professional pest control is a must to eliminate them. Broadway Pest Services is ready to help!
Our Bed Bug Treatment Options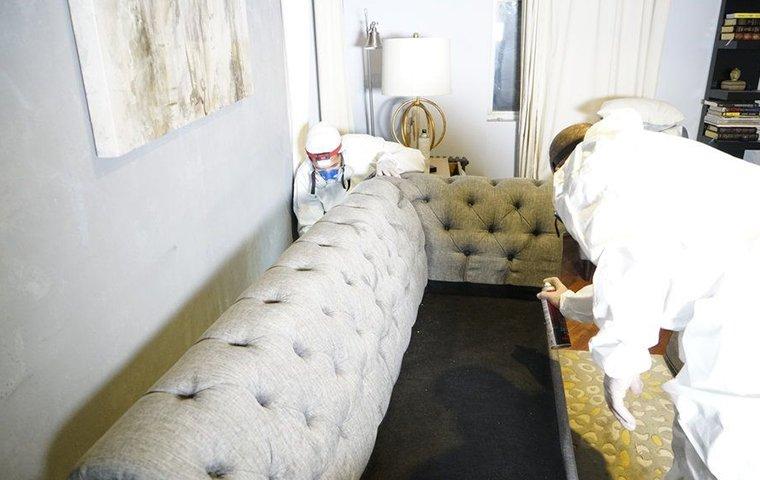 At Broadway Pest Services, we have become experts at treating bed bug problems. Using the latest technologies, we have developed several treatment methods that are incredibly effective and can be performed independently or in conjunction with each other. These include the following options:
Traditional Chemical Bed Bug Control
This conventional method involves applying a residual chemical treatment to cracks and crevices, bed frames, along the edges of carpets, and more. This treatment includes a follow-up visit.
Green Chemical Bed Bug Control
This method begins with a thorough vacuuming of living areas; we then apply a plant-based biopesticide that has a lower toxicity level than our traditional chemical treatment.
Heat Treatment
Heat treatments have long been considered one of the most effective methods of eliminating bed bugs. By heating your home or apartment to high temperatures, we can eradicate your bed bug problem in a way that's safe for your home and family.
Cryonite - Environmentally-Friendly CO2 Freezing Technique
Our Cryonite treatment is done in conjunction with our traditional chemical treatment and is our most effective method of eliminating bed bugs. We apply a chemical treatment and use Cryonite on sensitive areas, such as mattresses and other sensitive equipment. We can also perform this treatment along with our green chemical treatment instead of the traditional chemical treatment.
Keeping Your Home Bed Bug-Free, Guaranteed
We are so confident in our ability to rid your property of bed bugs that we guarantee no bugs or bites for 60 days following your initial treatment. We will return up to two times during this time frame if you continue to have a bed bug problem. The experts here at Broadway Pest Services are your local bed bug professionals, and we are equipped to handle bed bug infestations of any size here in New York City. Reach out to us today to schedule bed bug control treatments for your home!
Download Our Bed Bug Preparation Sheet!
Contact Us For Service Today!
Complete the form below to get started today!